Recently, separately, the NAACP and Equality Florida (the state's largest LGBTQ civil rights group) issued travel advisories in Florida. These advisories highlight the consequences of Florida's relentless far-right political agenda and passage of legislation to implement its extreme policies.
At the end of this is a description of Des Moines Black Liberation's declaration of #BlackEmergencyIA in October 2020. Des Moines Mutual Aid has always supported Des Moines Black Liberation. Also, in one of the photos below you can see how Des Moines Black Liberation (BLM) supports the Wet'suwet'en peoples' struggles against the Coastal GasLink pipeline in Canada, showing how justice groups support each other.
The #BlackEmergencyIA declaration was reissued at the time of President Biden's inauguration in light of the January 6th attack (2021) on the U.S. Capitol.
---
NAACP Issues Travel Advisory in Florida
FOR IMMEDIATE RELEASE
May 20, 2023
Contact: Chyna Fields cfields@naacpnet.org
WASHINGTON – Today, the NAACP Board of Directors issued a formal travel advisory for the state of Florida. The travel advisory comes in direct response to Governor Ron DeSantis' aggressive attempts to erase Black history and to restrict diversity, equity, and inclusion programs in Florida schools.
The formal travel notice states, "Florida is openly hostile toward African Americans, people of color and LGBTQ+ individuals. Before traveling to Florida, please understand that the state of Florida devalues and marginalizes the contributions of, and the challenges faced by African Americans and other communities of color."
"Let me be clear – failing to teach an accurate representation of the horrors and inequalities that Black Americans have faced and continue to face is a disservice to students and a dereliction of duty to all," said NAACP President & CEO Derrick Johnson. "Under the leadership of Governor Desantis, the state of Florida has become hostile to Black Americans and in direct conflict with the democratic ideals that our union was founded upon. He should know that democracy will prevail because its defenders are prepared to stand up and fight. We're not backing down, and we encourage our allies to join us in the battle for the soul of our nation."
The travel advisory was initially proposed to the Board of Directors by NAACP's Florida State Conference. NAACP's collective consideration of this advisory is a result from unrelenting attacks on fundamental freedoms from the Governor and his legislative body.
"Once again, hate-inspired state leaders have chosen to put politics over people. Governor Ron DeSantis and the state of Florida have engaged in a blatant war against principles of diversity and inclusion and rejected our shared identities to appeal to a dangerous, extremist minority," said Chair of the NAACP Board of Directors, Leon Russell. "We will not not allow our rights and history to be held hostage for political grandstanding. The NAACP proudly fights against the malicious attacks in Florida, against Black Americans. I encourage my fellow Floridians to join in this fight to protect ourselves and our democracy."
Following Gov. DeSantis' so-called leadership in driving the state to reject students' access to AP African American studies course in March, the NAACP distributed 10,000 books to 25 predominantly Black communities across the state in collaboration with the American Federation of Teachers's Reading Opens the World program. The majority of the books donated were titles banned under the state's increasingly restrictive laws. The NAACP continues to encourage local branches and youth councils to start community libraries to ensure access to representative literature.
The NAACP encourages Florida residents to join this effort to defeat the regressive policies of this Governor and this state legislature. Interested residents and supporters can visit www.naacp.org for additional information and updates.
https://naacp.org/articles/naacp-issues-travel-advisory-florida
---
---
The advisory cited specific Florida policies including SB 266 and HB 7.
SB 266, signed into law just last week, effectively prohibits higher education institutions from spending state funds on diversity, equity, and inclusion (DEI) initiatives. In the words of Governor DeSantis, this law will help "treat people as individuals" by banning programs that "[stand] for discrimination, exclusion, and indoctrination." This bill builds on SB 7044, which required periodic reviews of tenured faculty members and mandated professors to post their textbook lists online 45 days before their first classes.
In March, college students in Florida organized numerous walkouts in protest of HB 999, a similar proposal being worked on in the state's House of Representatives.
HB 7, also known as the Stop Wrongs Against Our Kids and Employees Act ("Stop W.O.K.E. Act"), was enacted in 2022. It attempted to ban "woke indoctrination" by limiting the teaching of Critical Race Theory at public universities and restricting diversity training among employers. A federal court blocked parts of HB 7 after finding them unconstitutional.
NAACP issues travel advisory for Florida over state efforts to limit Black history classes and ban diversity programs in schools by Caitlin Williams, U. Pittsburgh School of Law, JURIST, MAY 22, 2023 06:53:27 PM
---
Florida's largest LGBTQ rights group travel advisory 4/11/2023
Florida's largest LGBTQ civil rights group has issued a travel advisory for the state.
Equality Florida says the advisory, issued Wednesday, was prompted by "the passage of laws that are hostile to the LGBTQ community, restrict access to reproductive health care, repeal gun safety laws, foment racial prejudice and attack public education by banning books and censoring curriculum."
…
Florida has recently adopted a slate of hateful laws, and is fast-tracking additional measures that directly target the rights of LGBTQ+ individuals and basic freedoms broadly. Already, those policies have led Florida parents to consider relocating, prospective students to cross Florida colleges and universities off their lists, events and conferences to cancel future gatherings, and the United States military to offer redeployment for service members whose families are now unsafe in the state. These laws and policies are detailed below.
Florida travel advisory issued by state LGBTQ civil rights group. The group pointed to issues of gun violence, LGBTQ restrictions and more by Kiara Alfonseca, ABC News, April 13, 2023, 9:35 AM
The Equality Florida travel advisory describes the following concerns:
Assaults on Medical Freedom
Assaults on Academic Freedom
Censorship and Erasure of the LGBTQ Community
Assaults on Arts, Entertainment, and Sports Participation
Assaults on Business
Efforts to Foment Racial Prejudice
Repealing of Gun Safety Laws
Attacks on Immigrant Communities
---
Des Moines Black Liberation State of Emergency
This reminds me of the declaration of #BlackEmergencyIA in October 2020. Des Moines Mutual Aid has always supported Des Moines Black Liberation. In the video, you can see my Des Moines Mutual Aid comrade, Patrick Stahl, describing that support.
This blog post contains much more information about this.
Black State of Emergency in Iowa #BlackEmergencyIA
---
Patrick: Hi, I'm Patrick Stahl with Des Moines Mutual Aid.
Des Moines Mutual Aid is a collective that does outreach for homeless folks in our community, houseless folks in our community. We also assist BLM with their rent relief fund, and most of the work we've done is running the bail fund for the protests over the summer. In the course of that work, we have witnessed firsthand the violence that is done upon people of color, Black people specifically, by the white supremacist forces of the state – in this state, in this city, in this county. There is absolutely a state of emergency for people of color and Black people in Iowa. The state of emergency has been a long time coming. We will support – DMMA will absolutely support any and all efforts of this community – BLM, and the people of color community more generally- to keep themselves safe. Power to the people.
---
Des Moines BLM reissues travel advisory ahead of inauguration
The #BlackEmergencyIA advisory is set to go into effect Saturday ahead of the President-elect Joe Biden's inauguration Jan. 20 in Washington.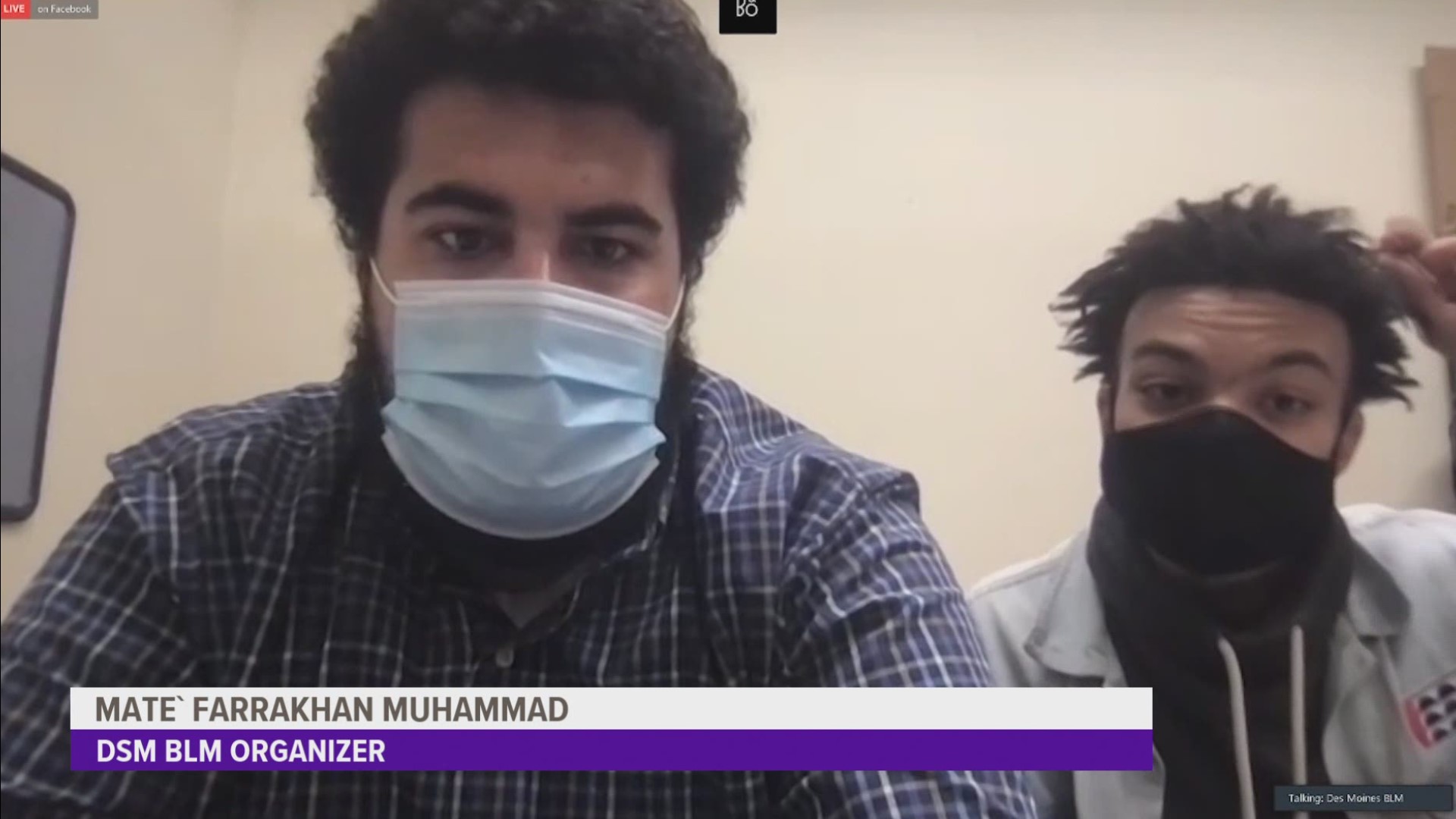 Author: Hollie Knepper
Published: 7:08 PM CST January 14, 2021
Updated: 7:10 PM CST January 14, 2021
DES MOINES, Iowa — Starting this weekend, a travel advisory reissued by the Des Moines Black Liberation Movement (DSM BLM) will go into effect for all Black Iowans and other people of color.
The Iowa Coalition for Collective Change (ICCC) is also helping with the advisory, which is scheduled to go into effect on Jan. 16-27.
ICCC and DSM BLM organizers held a press conference Thursday to go over more details.
"So last Wednesday, January 6, we all saw as white supremacists attacked the US Capitol," said Jaylen Cavil, chair of DSM BLM's advocacy department. "For many, we heard that this was a surprise, but for us at the Des Moines Black Liberation Movement, this was business as usual."
"Here we are again and I'm tired of doing these press conferences, but unfortunately they are a necessity," ICCC Executive Director Luana Nelson-Brown said. "The violence that we've seen over the past few months continues to escalate."
Nelson-Brown said the first travel advisory happened in September.
"As many are aware, authorities and other outlets are putting out warnings saying that in all 50 [states] and this nation's capital there will be white supremacist violence that is being planned in the coming week surrounded around the inauguration of Joe Biden," Cavil said.
That is why DSM BLM is reissuing the advisory.
Basic measures include:
Do not travel alone or at night if at all possible
If you must, then make sure to inform someone of where you are going and when you plan to return
Make sure to have an exit plan for any situation you find yourself in
---